Montogomery County Sheriff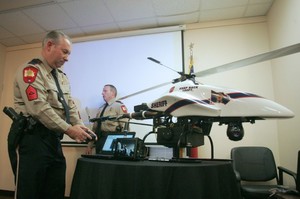 Aircraft:
Vanguard Defense Shadowhawk
Maximum Flight Time (mins):
Mission Profile:
The UAS will be used to enhance and support tactical operations in the rural areas of Montgomery County. SWAT and narcotics operations will utilize camera and FLIR systems to provide real time area surveillance of the target during high risk operations. The ability to provide this aerial view will tremendously enhance officer safety. In addition, a large section of north western Montgomery County is covered by a national forest. Numerous times throughout the year, persons become lost in this wooded area. The ability to use this vehicle to search large areas quickly using the attached technology equipment will improve the resolution of these SAR operations.