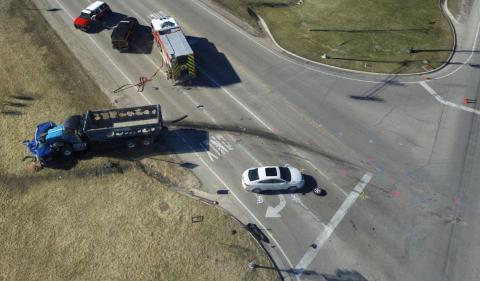 Case Study March 11, 2016
This scene occured in favorable weather conditions with good lighting. Consequently, the quality of the captured imagery was excellent. Without capturing terrestrial photos, we were able to create a high definition model with well defined details for almost all aspects of all vehicles at the scene. Some minor artefacts were apparent on the side of the truck where its coloring closely matched the underlying road surface. Image overlap was generally excellent, with slightly lower coverage on the eastern side of the scene, resulting in one minor gap that was corrected with manual adjustments.
Scene Characteristics
Accident Description: 10-50 three vehicle
Location: N. Darrell & W. Roberts Road, Port Barrington, IL
Temperature: 50oF; Clear, Visibility 10 miles. Wind 3.5 mph variable.
Responding:  Lake County's Major Crash Assistance Team (MCAT), Lake County Sheriff, Wauconda FD
Extent of Scene: 600' x 500' scene  (~7+ acres)
Comparison of Results
| Factor | Total Station | UAV |
| --- | --- | --- |
| Time to Capture Scene | 4 hours | 25 minutes |
| Number of Points Captured | ~350 | ~35,000,000 |
| Time to Build Model and Diagrams | > 4 hours | 1 hour 30 minutes |
| Accuracy | Sub-centimeter | Sub-centimeter |
Lessons
Earlier scenes included some artefacts from window glare and reflection.  At this scene, no such problems were encountered, even though the accident occurred in bright sunlight.  We suspect this may have been a combination of the time of day (close to noon) so the sun was high in the sky and some vehicles having window tint.
New versions of the modelling software have simplified the procedure and time required for post-processing.
Updates to UAV firmware have improved the accuracy of the GPS information included in the EXIF data.  This has improved the gelocation of the generated model even without adding Ground Control Points (GCPs).
Do you have a case study you would like to share with the community?  We would love to hear from you! Drop us a note from our contact page.