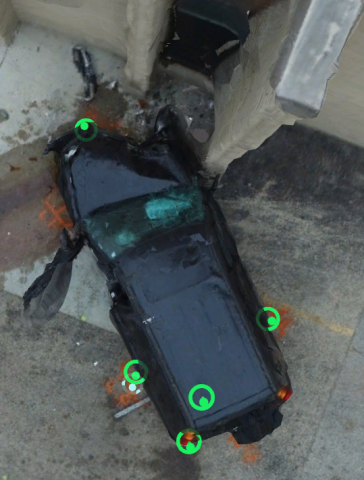 Case Study May 9, 2016
This scene occured in overcast conditions with periodic light rain and gusty winds, particularly at altitude.  The single vehicle came to rest adjacent to a school gymnasium which consequentlly placed some limits on visibility and available angles for image capture.
Scene Characteristics
Accident Description: 10-50 single vehicle
Location: Barrington Middle School Station Campus, Barrington, IL
Temperature: 56oF; Overcast/Light Rain, Visibility 10 miles. Wind East 13 mph, gusting 21mph.
Responding:  Lake County's Major Crash Assistance Team (MCAT), Lake County Sheriff, Barrington PD
Extent of Scene: ????
Comparison of Results
| Factor | Total Station | UAV |
| --- | --- | --- |
| Time to Capture Scene | 4.5 hours | 25 minutes |
| Number of Points Captured | ~350 | ~35,000,000 |
| Time to Build Model and Diagrams | > 4 hours | 1 hour 30 minutes |
| Accuracy | Sub-centimeter | Sub-centimeter |
Lessons
Wind gusts at the upper end of the specified operating range did not have a negative effect on control or maneuverability of the UAV.
Light rain did not impede the operation.  However, some later images were marred by rain droplets on the lens.  This needs to be monitored in similar conditions and the UAV landed and lens dried if required.
Timing did not allow the capture of oblique aerial images or any terrestrial images.  However, overall model quality was not negatively effected with only some loss of resolution on close-up views of the vehicle.
Aerial photography, in this case, may provide sufficiently detailed images to prepare preliminary crush analysis.
Do you have a case study you would like to share with the community?  We would love to hear from you! Drop us a note from our contact page.